Suitable for Mums with babies 8 weeks – Pre-crawling
2022 classes

Mummy & Baby yoga
Venue: Blackheath Complementary Health Centre, 184-186 Westcombe Hill, LONDON SE3 7DH
Fridays at 10:00 – 11:00
Dates: 24 June, 01, 08, 22, 29 July, 05 August 2022
Please note: no session on 15 July
6 sessions
Fee: £90
Payment plan available – please email info@peacefulpractice.co.uk for more details
Booking forms
Venue
Private courses

Private courses either in your own home or a studio space are available
For further info please contact Bernadette: info@peacefulpractice.co.uk
About the classes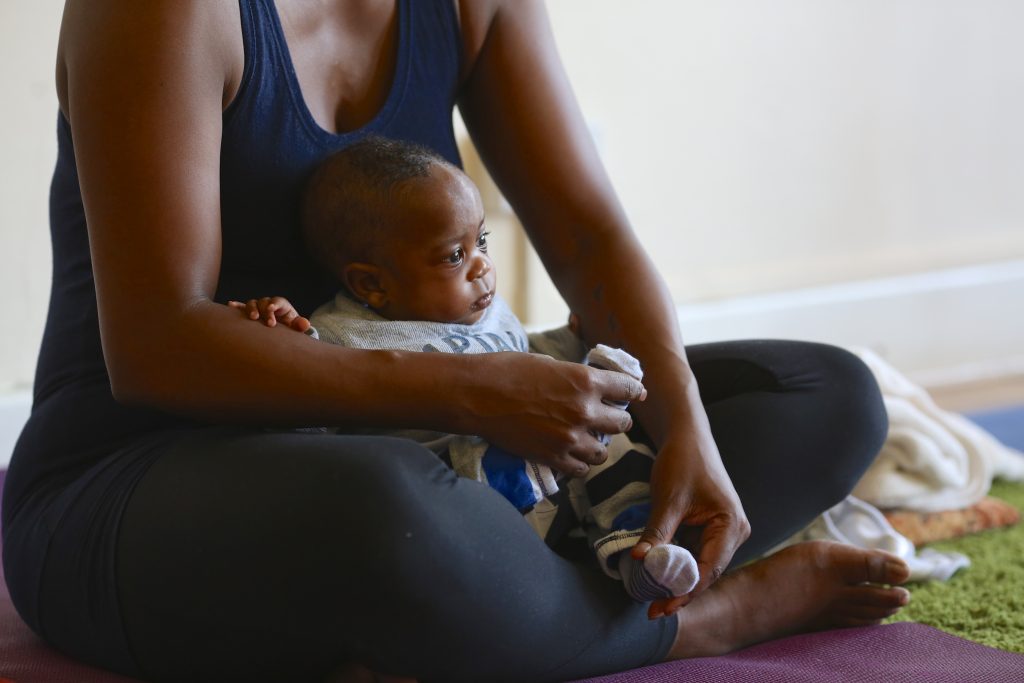 These are not adapted mainstream yoga postures & practices. They are dedicated practices, designed specifically for women's bodies. Namely women who have grown a baby for the best part of a year and have given birth (however that was) and are now wanting to address how they can recover & regain deep muscle tone & maintain pelvic floor health. Gentle, effective movements to ease stiffness in necks, shoulders & backs are added.
You will be doing action rhymes with your baby, that will stimulate their body systems in fun & playful ways, to promote restful sleep, aid digestion, respiration & circulation and stimulate the nervous & immune systems. Some baby massage movements are also incorporated.
"Would you like to enjoy a class which helps to revive your energy levels – gently toning muscles and easing joints, yet at the same time being relaxed, informal and fun for your baby as well?"
Photo © Jana Chiellino, Co-director/Photographer, Atherton-Chiellino Photography of the Arts www.atherton-chiellino.com | www.janachiellino.com
"Thanks for another lovely session. I feel much less achy & tired than I did beforehand."
J.L.
"Great class today! Thanks as always looking forward to the next one"
E.W.
"L loved the class today and is still fast asleep now"
C.T.
I have been teaching mum & baby post natal recovery yoga for many years. It is a specialised, supportive approach, taking into account the impact of joint mobility & stretched abdominal and pelvic floor muscles. Also mindful of the nature of delivery, especially, c section, the impact of breast feeding and broken sleep as well as fluctuating hormones.
It is important that women do not feel under pressure to return too soon to a strong practice of yoga or exercise, as what is really required at this time is a gentle, nurturing practice in order to revive strength and energy.
Babies also enjoy their passive stretches and songs and the classes are beautiful ways of sharing the joy of yoga with your baby, from a very early age. We always end the classes with relaxation and as your baby recognises these vibrations in you it helps them also to relax.
The classes also offer practical tips on teething, colic, nappy rash and so on. They will help you uncover the knowledge that is within you to understand the various needs of your baby in a supportive & non judgemental way.
My professional and personal experience has honed a variety of skills and a lot of knowledge to not only offer you some appropriate yoga for you and your baby but also to support you through this special time in you and your baby's life.
The classes are also a great way of linking up with other local mums & babies in a friendly environment. Babies who need to feed, be changed or cry are all very welcome!
Classes are suitable for mums with babies pre crawling. After this Family Yoga with Bernadette makes an ideal follow-on or alternative."
"This lovely class educated & supported me in my return to a "non pregnant" body. The atmosphere is relaxed, even giving us techniques to help with teething, colic & other common complaints. Bernadette uses fun songs & routines to involve the babies in the yoga. HIghly recommended. "
Laura
My return to a ″non pregnant″ body!
Mummies Massage
Individual and family Home Visits are possible or treatments carried out in the treatment room can also be booked.
Read more testimonials:
"…It gives mums the opportunity to relax and make new friends. Babies really benefit from the gentle stretching exercises and games and enjoy the singing."
Catherine & Amelia

"Thank you so much for an enlivening course and teaching more ways to communicate with my daughter."
Jo
Diastasis recti support for post natal women
Diastasis Rectus Abdominis (Diastasis Recti) seems to have increased in the last two decades. This midline separation of women's abdominal wall associated with pregnancy is often left untreated during the postnatal period and in later years.
This condition is not prevented by keep fit practices, including some forms of yoga for pregnancy. Yet with a balanced yoga practice, the midline tissue of the Linea Alba can be expected to be flexible and strong enough to withstand most pregnancies. A healthy abdominal wall is essential for a pain-free lower back, urinary continence, sexual health and pelvic organ support.
Bernadette has trained with Francoise Freedman of Birthlight & offers bespoke practices, for various forms of Diastasis Recti and umbilical hernias, which can all occur in pregnancy & the post natal period and may often remain undiagnosed for many years.
Bernadette offers bespoke 1-1 yoga therapy for Diastasis recti in your own home or local studio – contact Bernadette to find out more